Gasshuku 40-years Anniversary
De Gasshuku 40-years Anniversary
The weekend 9 and 10 november 2013 was all about sharing experiences and the General principles in Budo.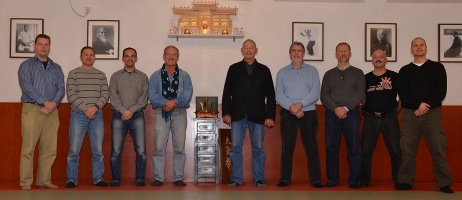 For this special occasion great masters from Sweden, Switzerland and France came over. They arrived in the course of Friday. The Board treated them in the evening on a warm welcome to the dojo with a delicious dinner. After dinner, ideas were exchanged and the program was being completed.

The next morning the day started early. At nine o'clock the Gasshuku started.

All guests and participants were being welcomed.

Afterwards, the morning was filled with two workshops. The first was provided by Shihan Jan Kallenbach assisted by sensei Hans Bakker and sensei Etienne Graanoogst.

The second was provided by SMR Menkyo Kaiden Pascal Krieger assisted by SMR Menkyo Kaiden Fred Quant. The atmosphere was very cordial, open and was featured by a sense of belonging.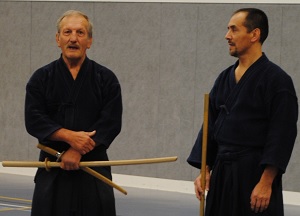 This was followed by a well deserved and well cared for lunch. The attendees enjoyed the lunch and took into good account the afternoon program. The afternoon program consisted also of two workshops.



The first was provided by Shihan Michael Söderkvist assisted by sensei Lars Sjöberg and sensei Rob Quant.
The attendees were surprised with a very interesting workshop. They were being introduced to an entirely different facet of the Kyokushin karate than expected.
Shihan Marshall McDonagh had the honour of the final workshop of the day to take care of. This he began with a reflection of his experiences of the last few years. The fight against the invisible opponent. Also in this fight Shihan Marshall McDonagh knew to handle the principles of budo.
He closed the workshop with a playful practice session, after which the first day ended.
All participants followed each workshop and were introduced to the General principals, views and interpretations of the Grand Masters. All participants left the room with a satisfied feeling of enrichment.
Sunday, two more workshops completed the Gasshuku. Pascal Krieger this time assisted by Jean Luis Martin had the honour to present another very interesting workshop.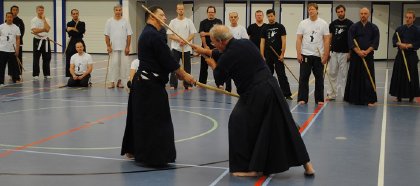 This time he went in on kenjutsu and presented the attendees a variety of techniques with explanation, after which some could be practiced with each other.
Also now there was again a great open atmosphere with a special budo-spirit.

All pounced totally on the offered exercise material, where those in the know offered the others their help and knowledge spontaneously.

The last workshop was to Jan Kallenbach. In this workshop, a number of aspects which were central earlier in the weekend, were approached from a different point of view. Those present could again in a completely different way get to know the possibilities that Tai Ki Ken and budo offer. Also during this session a variety of surprising exercises was offered to the the attendees.
At the end of the Gasshuku shihans Marshall McDonagh and Jan Kallenbach let us join and practice their versions of the kata Ba Duan Jin.


The Gasshuku was closed in a very relaxed way and all participants went home with a very enriched feeling.

Frank Hoekzema wasn't able to participate and excercise, but he sure did shoot a lot of nice pictures. Frank, a lot af thanks for that from all of us!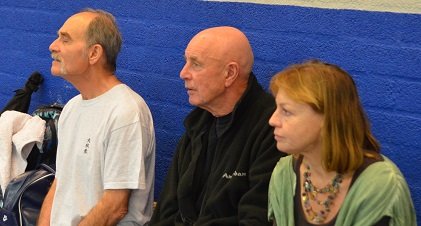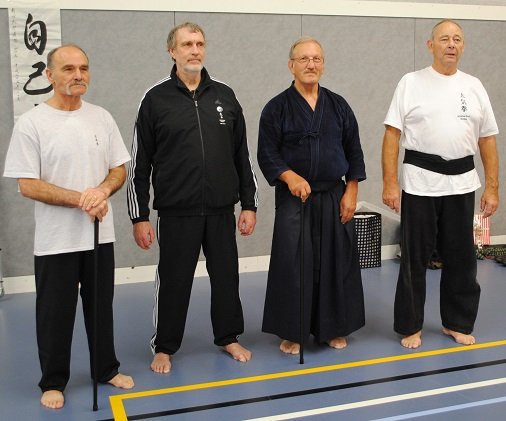 Sensei Rob Conradi managed to shoot and publish some nice pictures. Click here for his photo's
Hans Everts also shot very nice pictures, Click here for his photo's.
What the participants think of the Gasshuku

Robert Gattat
It was a pleasure to participate at this 40 years among these Sensei and student, this Gasshuku has proved that Martial art is defenetly a family. I felt the need to stay open mind Taiki bring the tools. To me you have brought authority and expertise everyone know how much it is important to have someone like you to represent martial art. Thanks

Åke Wall
The Yoshinken Budokas went home with a great feeling; we met old friends and gained new ones, all skilled in martial arts. We Thank Sensei Jan Kallenbach and the organization of Shinbuken for a nice Gashuku and weekend. Domo Arigato
Read more

Patrik Orth
It was nice experience there. By the way - here is a short report in CZ budo website 40. výrocí Shin-Shinbuken Dojo | BudoNews.cz

Marshall McDonagh
On behalf of Yoshinken Sweden, I congratulate the Shin-Shinbuken Budo Team for the excellent Gasshuku which contained ALL of the important ingredients of modern BUDO as it should be.
The good feeling experienced will last a long time and further efforts in never giving up in personal development, with humble respect, strong "KI" and influence the coming generation with these special values.

John McWilliams
Pascal and Fred performed incredible embu. Thanks for sharing the great weekend. The budo spirit was very strong - see you next time!

Shihan Michael Söderkvist
Thank You for your hospitality and great time we had together. I think our seminar worked out very well as I heard from the participants.

Åke Wall
A big thanks to you and your friends in Shin-ShinBuKen for the Gasshuku, it was really nice to meet with the Jo and Karate people. But it's so with Budo people, it is always nice. And now remember Rob that you promised to come and train TaiKiKen with me next time I visit Shin-ShinBuKen.

Alain Stoll
Nur ein mal ich bedanke mir auch für mein Deshi Olivier für diese zwei fabelhafte Tage in Amsterdam. Das war sehr Lehrhaft mit andere Leute von Taikiken Kenpo, Kyokushinkai und Jodo das keiko zu folgen. Domo Arigato Gozaimashita. Wir bleiben in verbindungen, wie immer.

Julien Porterie
Osu! In the name of all ACBB Taiki members, i would like once again to thank you for this great week-end. The martial content and the human links were so rich. And so long time since we didn't see Jacques Sensei so happy, enjoying, living and speaking that way!

Rolf Slijkerman
We had an inspiring gasshuku this weekend. For those who want to: it would be nice to be ready at 20.00 hours and start with some kumite.

Lars Sjöberg
Thank you very much for your hospitality and for hosting us during a very successful gasshuku. It´s an honour for me to participate. It was nice to get to know you and I hope that we can stay in contact in the future. We keep in touch.
Budo Regards from Lars.

Pascal Krieger
Hello Fred, I had a nice trip back. A little tired but extremely happy about this wonderful gasshuku, meeting with such old friends as Marshal and Ian. Thanks for your wonderful hospitality. See you in some 50 days. Pascal Krieger Merci Ian, yes, let us go on. I had a great time. Take good care of yourself, my friend. Have a good end of the year. Pascal Krieger.

Kees en Will Bruggink
Jullie kunnen terug kijken op een meer dan geslaagd jubileum. Het was geweldig, en wij vonden het een eer daar deel van uit te mogen maken waarvoor nogmaals dank.

József Katona
Finally back in safe, only my weapons left in Amsterdam, but since then KLM brought them back to me. Thank you again for the invitation and also for your hospitality, even staying in your family circle. Altough I was the only one Hungarian there, but never felt alone or bored during those days. It was very nice being there and do cross-training. I realized that I have learnt couple of things again. Please, give my best regards to the organizers and the folks around, as well.